Baby "K"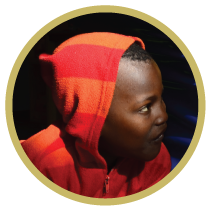 Baby "K" was one of a twin, born 10 weeks prematurely, weighing 1020g at birth on 10 July 2009. His sister weighed 1080g. When they arrived at Barnswallows at 4 months, she still only weighed 3.7Kg and Baby "K" weighed 2.8Kg. They were very sick, in and out of hospital for the first 5 months of their lives, had diarrhea continually, and were eventually admitted early December for pneumonia, upon which she contracted measles. We brought Baby "K" home on 25 December 2009, weighing a mere 1.9Kg. We had them tested for HIV at the time, and because of her weak immune system she passed away on 29 December 2009 after being put onto ARVs.
He was diagnosed with diplegia (cerebral palsy in his lower body), fetal alcohol syndrome and was HIV+. These were neglected and abandoned babies who were taken away by the police due to the mother going on drinking sprees and leaving them in a shack left to their own destiny.
Baby "K" did well on the ARVs initially, but because he was also sensory defensive, and did not have an appetite, did not pick up weight – and doctors' prognoses were that he would never crawl, walk or talk.
At about 1 year 7 months, he started deteriorating again and we were referred to a toxicologist, who just about saved his life. The live blood analysis showed a number of deficiencies, parasites, bacteria and a host of other problems in his blood, for which we started treatment immediately.
He started to thrive gradually. We worked together with various experts (micro-biologist, toxicologist, massage therapist, chiropractitioner) to try and give this boy a better chance to survive. He received Hyperbaric oxygen therapy, Auditory Integrative Training and many different supplements. Urine and hair samples were sent to the UK for analysis. Everywhere experts helped us to overcome his developmental delays. He was put onto a special program where he was scrubbed daily, treated for the sensory problems, etc etc etc. A week before his second birthday, Baby "K" gave his first steps, toe-walking because of brain damage. This is also the time when we took him off the ARVs and started giving him peptide injections regularly, prescribed and donated by medical doctors and a micro-biologist.
At the age of 2 years 9 months he started attending a normal playgroup in the area where he did very well. He was still a bit behind his peers, though. Now, at 7, he is ready to start Gr 1 at the beginning of 2017 – a healthy, very much alive and bubbly pre-schooler described by most people as 'very clever' and 'smart'. He is a super energetic gymnast, very good at sport, and has overcome diplegia completely. He is not on ARVs, only on an excellent diet!
Doctors who treated him years ago are amazed at his progress, and still actually do not want to believe that he is a normal boy. He has overcome most of his developmental delays and setbacks and is ahead of his peers in tennis, gym and general sporting activities.
This is the change we want to make in every baby's life who comes through our door. Through perseverance and team effort we have seen that it is possible.