Baby "M"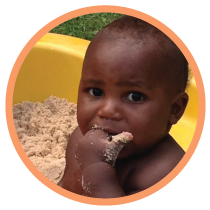 One Monday morning in November 2014 I received a phone call from a police officer in Katlehong. During her morning rounds in a taxi rank she found a baby lying on a table. The baby was abandoned left with a bag of clothes and baby goods. The Police Officer asked me if I could take care of the baby in Swallows Nest Baby Shelter.
This baby was suspected to be part of a baby smuggling syndicate in a local hospital. After a very long day and DNA tests I finally left with the baby and returned home. The baby had no name and we were not sure how old he was.
On returning home my caregiver discovered a bottle of the medication Neviropine (used to treat HIV exposed infants). The bottle contained the name of the Hospital and the mother's name. I phoned the hospital inquiring if this mother had had a baby. The hospital confirmed that this mother had a baby 3 weeks ago. This matched the doctor's age assessment of the baby.
The hospital gave contact details of the mother. The Katlehong police found and arrested the mother. She was let out on bail. The baby's mother ran away. It turned out that the baby was not part of the baby smuggling syndicate.
What proceeded was 4 and half months of very little involvement on the social department's behalf. Then suddenly the baby was placed with a biological aunty, who had not gone through a screening process. Two months later it came to my attention, through some miraculous events, that the baby was no longer with the aunty and that he was with a granny who had no means to take care of him.
The baby was collected and returned to Barnswallows Benoni late one Friday night.
This little guy is now 9 months old. He is such an incredible joy to us. We are working with Social Development, planning the road ahead for his life. We are trusting for a beautiful road to unfold.
We named this little guy Reuben. Over the past few months we have come to understand something about how God calls and names these babies. Isaiah 49:1 says "the Lord called me before my birth, from within the womb He called me by name." So although our babies often come nameless, we are assured that the Lord Himself has named them from the womb. They are not nameless and unknown to Him. Reuben means Behold a Son.